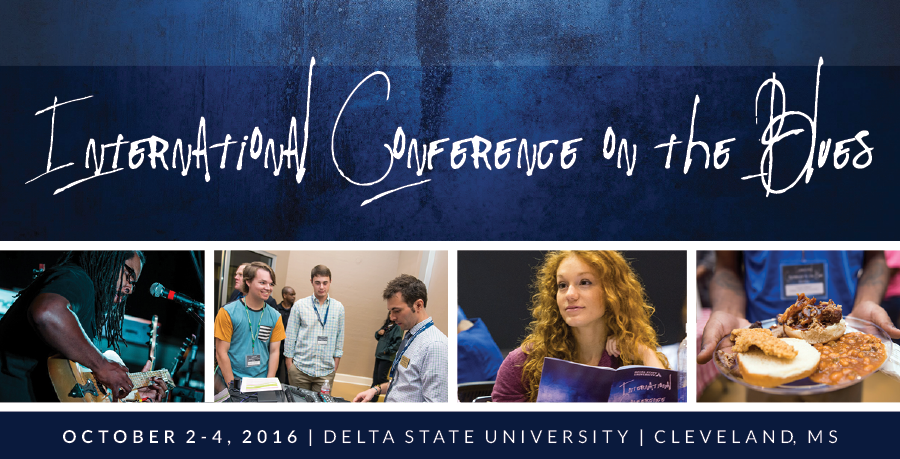 OCTOBER 2-4, 2016
The International Conference on the Blues consists of three days of intense academic and scholarly activity and music. This annual conference falls in between the Mighty Mississippi Music Festival in Greenville, Mississippi and the King Biscuit Blues Festival in Helena, Arkansas.
Academic presentations, Blues performances, a "Blues in the Round" jam session, and excursions to local historical attractions add appeal for all audiences.
CALL FOR PARTICIPATION:
Delta State University is now accepting proposals for papers, presentations, workshops, and clinics for the Third Annual International Conference on the Blues, which will be held October 2 – 4, 2016.
PROPOSAL SUBMISSIONS
Topics of general interest to scholars and enthusiasts are welcome: African American musical tradition and its influence on American music and culture; the Blues; folklore; history; ethnicity; and the Delta. Topics of interdisciplinary nature are also encouraged.
Papers are invited from all blues scholars, with a particular emphasis on young and emerging scholars (graduate students, recent masters and doctoral graduates, and junior faculty), as well as established scholars, authors, performers, blues enthusiasts, and independent researchers. A prize will be awarded to the outstanding young scholar paper.
You are invited to submit proposals for paper presentations, lecture-performances, panels, performances, and workshops. Offers to serve as moderators are also welcome. Papers will be 20 minutes in length, with an additional ten minutes for discussion, and should address a general audience.
Proposals must be submitted online via www.deltastate.edu/blues.
Please include a description of the presentation, audio/visual equipment needs, and biographical information for all presenters. Please note that not all A/V requests will be granted. Presenters agree to appear at the conference at their own expense, which will include registration fees.
For more information, please contact Shelley Collins and Don Allan Mitchell at
blues@deltastate.edu or visit www.deltastate.edu/blues.